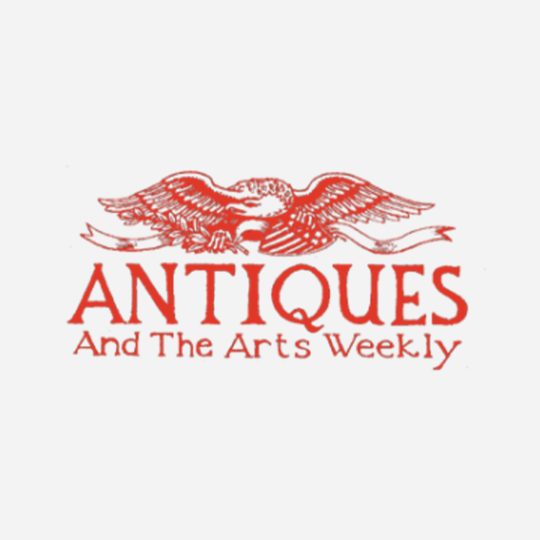 Antiques and The Arts Weekly
2016
TEFAF New York Offers First Look At Debut Fair », Antiques and The Arts Weekly, 27 septembre 2016:
« NEW YORK CITY — The international art fair TEFAF New York Fall, a joint venture between TEFAF and Artvest Partners, has released a "first look" at the inaugural fair that will be taking place at the historic Park Avenue Armory from October 22–26, with the opening night to be conducted on Friday, October 21.
The fair will feature 94 international dealers of fine art, design, furniture and jewelry from antiquity through the early Twentieth Century. The event is the essential next step for the world's top art and antiques dealers for whom North America is an important meeting ground in a global community of collectors, curators, interior designers and art enthusiasts. Offering a vast collection of museum-quality works, the show will offer the opportunity to view and purchase pieces across multiple collecting areas, including furniture, decorations, objects, ceramics, glass, silver, textiles, tapestries, antiquities, jewelry, paintings, sculpture, arms and armor, books, manuscripts and autographs, tribal, Oceanic and ethnographic art, Asian art and Fabergé, offering something of interest for every visitor to the fair.
The fair will be the centerpiece of the newly launched TEFAF Week in New York City, an event-filled week of exhibitions, lectures and art events scheduled to coincide with the fair at the Park Avenue Armory. Its mission is to celebrate the fine and decorative arts sector in New York City during a time when the world's top specialist dealers, museum curators/directors, collectors and interior designers converge for the fair. TEFAF Week is a partnership between TEFAF New York and distinguished cultural institutions and associations, world-class museums and top-tier fine and decorative art specialists in the New York metropolitan area.
The fair's exhibitors are leaders in their respective fields, with a number of them showing for the first time in New York, or returning after a significant hiatus. They are A. Aardewerk Antiquair Juwelier, Adam Williams Fine Art Ltd., Agnews, Alberto Di Castro, Alessandra Di Castro, Åmells, Antiquariaat Forum bv, Ben Janssens Oriental Art Ltd, Benappi, Burzio, Carlo Orsi, Christophe de Quénetain, Daniel Katz Ltd, De Jonckheere, Dickinson, Eguiguren Arte de Hispanoamérica, Eric Coatalem, G. Sarti Antiques Ltd, Galerie Didier Claes, Galerie Jacques Germain, Galerie Kevorkian, Galerie Meyer — Oceanic & Eskimo Art, Galerie Sanct Lucas GmbH, Galleria Carlo Virgilio & Co, Gallery Perrin, Hemmerle, Heribert Tenschert-Antiquariat Bibermühle AG, Jaime Eguiguren-Arte y Antigüedades, Jean-Luc Baroni Ltd, Joan Wijermars, Jorge Welsh Works of Art, Ltd, Julius Böhler Kunsthandlung GmbH, Kunstgalerij Albricht, Kunsthandel S. Mehringer OHG, Kunstkammer Georg Laue, Lowell Libson Ltd, Otto Jakob, Reza, Rob Smeets Old Master Paintings, Sam Fogg Ltd, Siegelson, Vanderven Oriental Art and Wallace Chan.
Three dealers from this group listed above — the Kunstkammer Georg Laue, (Munich/London), Blumka Gallery (New York) and Kunsthandlung Julius Böhler (Starnberg, Germany) — have joined forces to present a mini exhibition. They will showcase a selection of works of art from the Middle Ages, Renaissance and baroque periods in the modern setting defined by TEFAF Fair designer Tom Postma to enhance the historic room where the exhibition will be mounted. The bold backdrop of modern architecture with see-through apertures of the period room will create a unique platform to exhibit the works of art.
A special feature of this exhibition is the still life with artworks made of silver, coconut, amber, filigree glass and other precious materials that will be displayed in the central showcase, thus evoking the atmosphere of princely kunst- and wunderkammer — cabinet of curiosities — from the Sixteenth-Seventeenth Centuries. Georg Laue will also build a collector's cabinet according to historical record, an arrangement based on a painting by the Hamburg artist Georg Hinz whose kunstkammer representations give an insight into the collecting and display practices in the Seventeenth Century, when artworks of precious materials such as silver, gold, amber or coral were interacting with rare natural curiosities like shells or coconuts.
A long-standing exhibitor of TEFAF Maastricht, Koopman Rare Art is exhibiting at the inaugural TEFAF New York. Among the notable pieces it is bringing is a silver tureen and cover by Paul Storr (1771–1844), which has the additional interest of an American connection. The tureen was presented to Thomas Willing, president of the Bank of the United States, by the bank's stockholders on January 8, 1799. Willing was an important member of the Philadelphia "aristocracy," who also served as mayor of Philadelphia and was a trustee of the University of Pennsylvania, from 1760 until 1791. A pair of Victorian marine-inspired table-centre dessert bowls, made in London, between 1838 and 1848, also bear the maker's mark of Paul Storr and John Samuel Hunt for Storr & Mortimer. The bowls are engraved with the Tollemache crest John Jervis Tollemache, 1st Baron Tollemache, for Peckforton Castle in Cheshire.
As the first Asian jewelry artist invited to exhibit at the fair, Wallace Chan will bring with him around 40 pieces of one-of-a-kind jewelry creations, as well as a 2.2-meter large-scaled titanium-gemstone sculpture "Rise of Heart." Chinese dragon belt buckles are currently adding a new take on men's fashion. Chan sliced a piece of Qing dynasty white jade dragon belt hook into halves. He further doubled the parts, mirroring the white jade old and young dragons with gemstones and titanium. An antique piece, once asleep, is now awake with a new life. The pair of dragons expresses how history and modernity join hands to create new meanings and aesthetic experiences. »